WhatsApp needs no real introduction. It's now the world's most popular instant messaging service, and we love it to pieces. As a show of appreciation for WhatsApp and the joy it brings into our lives, we've decided to compile a comprehensive list of WhatsApp tips and tricks to help
AndroidPIT
readers get the most out of the app. Here are our answers to some of the most commonly asked questions about WhatsApp.
WhatsApp Messenger

Basic functions
How can I listen to WhatsApp messages discreetly?
Voice messages are played through the main speakers on your smartphone, and will usually allow all of your nearest and dearest to listen in as well. There is a deceptively simple solution for this issue: just hold the phone to your ear. The proximity sensor will think it is a standard phone call and will automatically switch speakers.
How do I cancel a WhatsApp voice message?
When you send a voice message via WhatsApp you need to hold the record button. As soon as you stop pressing the button the message will be sent. That said, you are still able to cancel these messages. Just slide your finger to the left of the input field and a small trash can will appear. This indicates that your message has been deleted.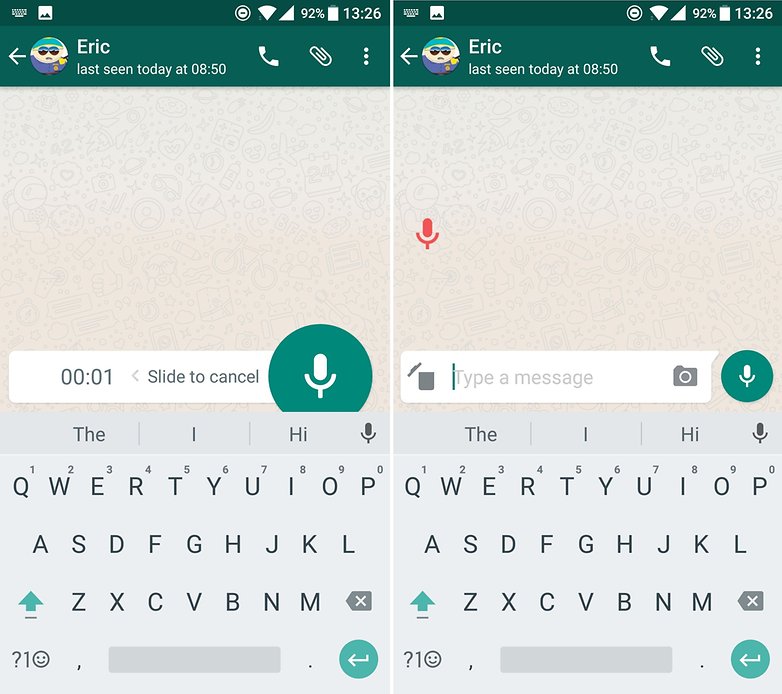 How do I mark a favorite WhatsApp message?
If you are a heavy WhatsApp user you'll be writing and receiving a lot of messages. For one reason or another, you may want to have some of these messages more readily available than others. Go to the conversation and press down on the message you want to bookmark, all you need to do then is press on the star in the new menu at the top.
To access your favorite messages, go to the main window and click on the three vertical dots. Then enter the "Important Messages" tab and you will find your favorites there.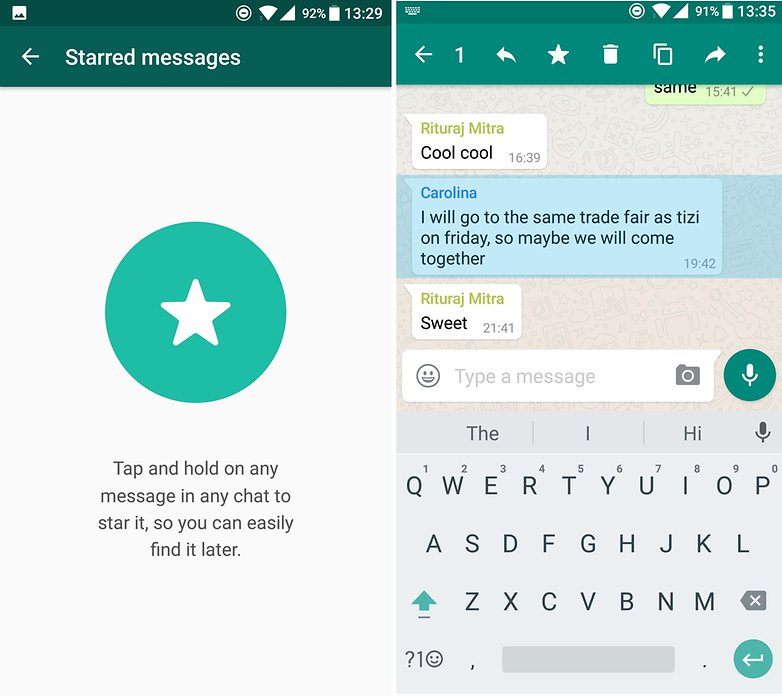 How do I find individual contacts or messages in WhatsApp?
Do you need to find the details for one of your contacts but need to scroll through everyone else to find them? No problem! Just click on the magnifying glass and type the name of the person you are looking for.
Searching is not limited to finding your contacts. If you have had a long conversation with a contact and you want to find a specific message, you can easily access it. Go to the conversation and click on the three vertical dots in the top menu, click on search and then just enter your key search words.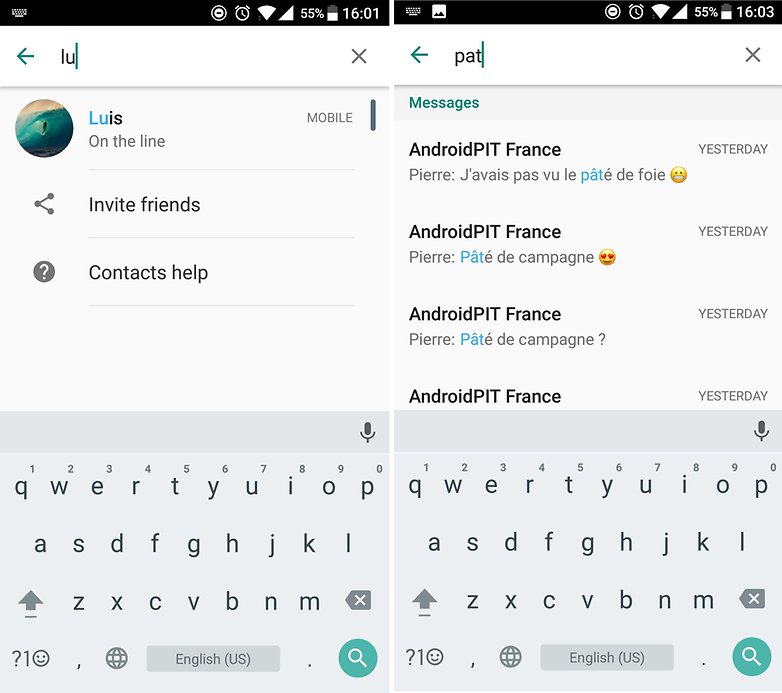 How do I send a file to a contact on WhatsApp?
Just follow the same procedure as above to find your contact, except this time you will need to press on the paperclip and choose "Document." You can then access your memory, select the file you want and then send.
How do I send my location or a contact number via WhatsApp?
In some circumstances you may need to send your exact location or send the phone number of another contact. All you need to do is go to the chat window for your contact, and then click on the top right paperclip.In the menu select "Location" (obviously) and you will be given multiple options. Select the option which best fits where your current location is, and it will be sent to your contact.
To send a contact, simply select "Contact" on the same menu, pick one from the contacts list and confirm with the arrow.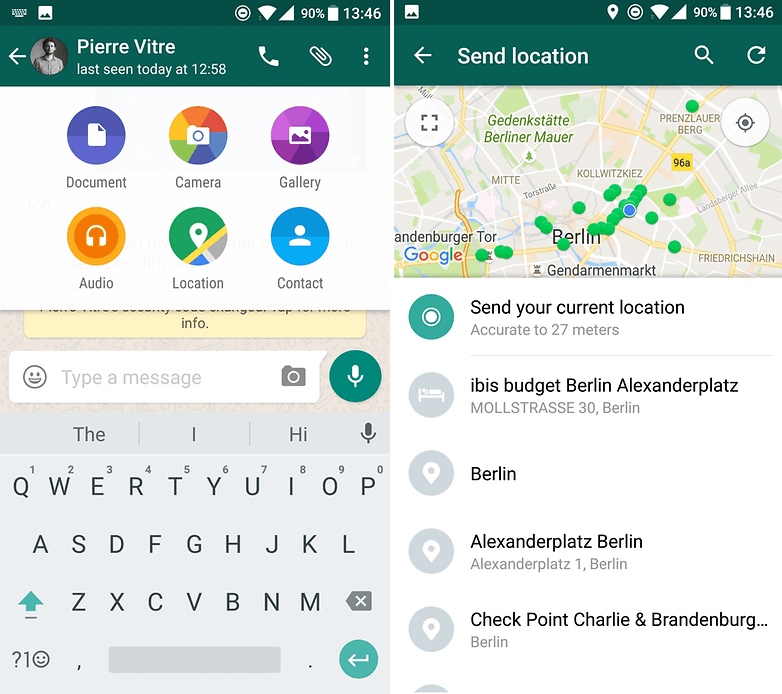 How can I be sure I have the latest version of WhatsApp?
As a general rule, the Play Store will notify you when your apps can be updated. Of course, you are able to check whether a new version is available by visiting the Play Store, click on "my apps" and you will be able to see if any updates are available. If you want to wait for the update to become available in the Play Store, you can always go to the APK file and install it manually.
If you'd like to see what's new in WhatsApp, we recommend you wait for WhatsApp beta to become available.
How do I install the latest WhatsApp APK?
First, head to Settings > Security > Unknown sources and ensure the box is checked.
The, on your smartphone browser either head to the
WhatsApp website
or APK Mirror and download the latest APK (APK Mirror is usually ahead of the WhatsApp website). Once the file's downloaded, open it to install the latest WhatsApp APK.
How can I participate in WhatsApp beta?
Like many apps, Facebook / WhatsApp offers its users the opportunity to test new features in a
pre-release version
. Once you're all signed up you can install the beta version of WhatsApp from the Play Store.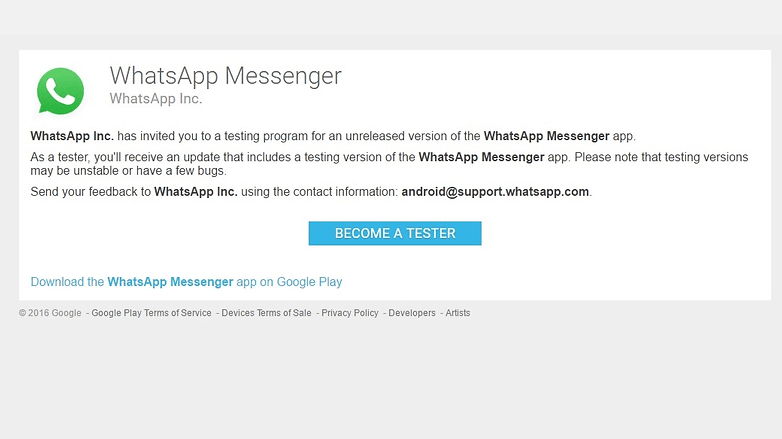 How can I send messages with Google Now via WhatsApp?
If for whatever reason are unable to use your hands, you should know that you can go through Google Now to send messages via WhatsApp and it can be done entirely by speech interface?
Simply start it manually or say "Okay Google" (if you have it voice enabled), and then say "Send to #message #contact on WhatsApp." For example, "send Cuckoo Carole on WhatsApp." The application will then ask you to confirm, so you can either press the arrow or confirm vocally.
How do I make an audio or video call using WhatsApp?
Nothing could be easier! On the conversation window you will find in the top right the symbol of a phone next to the paperclip. Press it, and the application will ask if you want to make an audio or video call. Just select your preferred function and the call will start.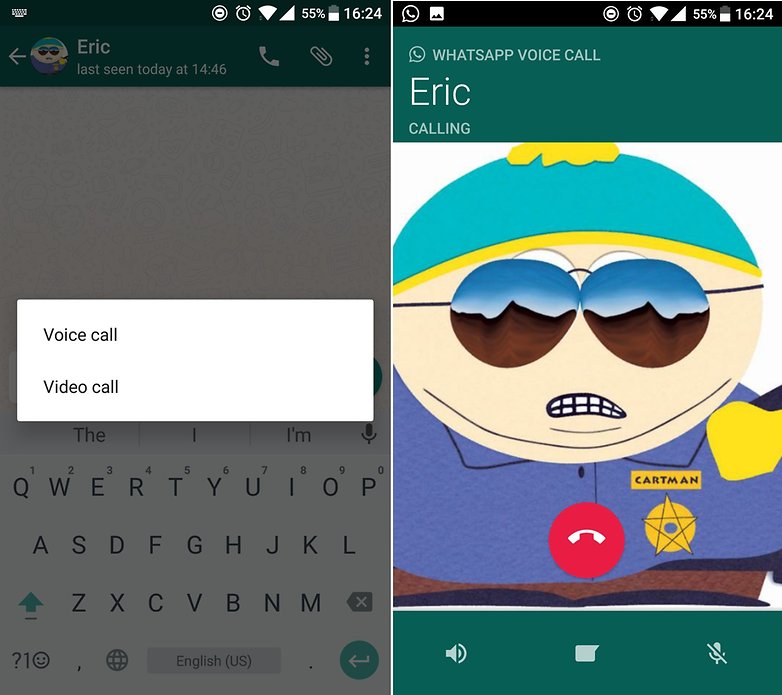 How do I change my WhatsApp status?
Simply click on the three vertical dots in the upper right. On the menu, click "Status." All you need to do is press on the pen at the end of your current status and you edit it to your liking. Alternatively, you can also select the default statuses that are already available.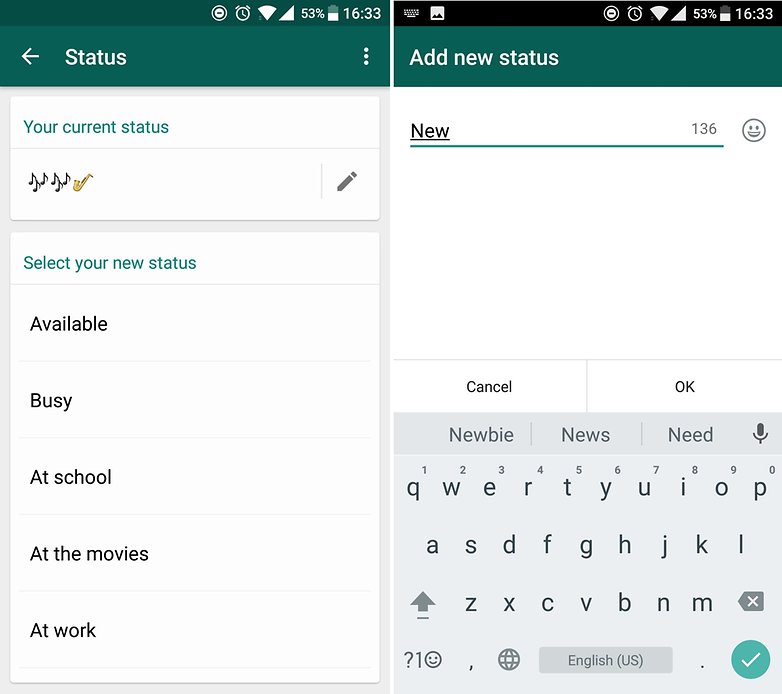 Photos and videos
How do I delete photos and videos sent via WhatsApp?
WhatsApp can be annoying sometimes because every time you send a picture or a video it is saved to your phone. For instance, if you took a photo in town today and then sent it to a friend, that photo will be stuck not only in your photo file but also in your WhatsApp conversation.
You can delete these manually. Just go to the WhatsApp folder in your phone's internal memory to the media file and select what you want to delete, and then go to the "Sent" folder and select the items you want to delete.
How can I disable automatic loading of multimedia files on WhatsApp?
When you receive a lot of images via WhatsApp you do not always want them to be downloaded by default. This isn't only because they are not that interesting, downloading them consumes a lot of data. Fear not, you can disable the annoying automatic download. Instead, you will then need to validate the download manually.
Go to the settings and then enter "Data Usage". You can then choose which items can be downloaded automatically with mobile data, WiFi or roaming. Simply click on the configuration that you want, for example "using mobile data", and then select your preferred options - you can ignore the ones you don't want.
If nothing needs to be downloaded automatically, simply turn off all of the available options.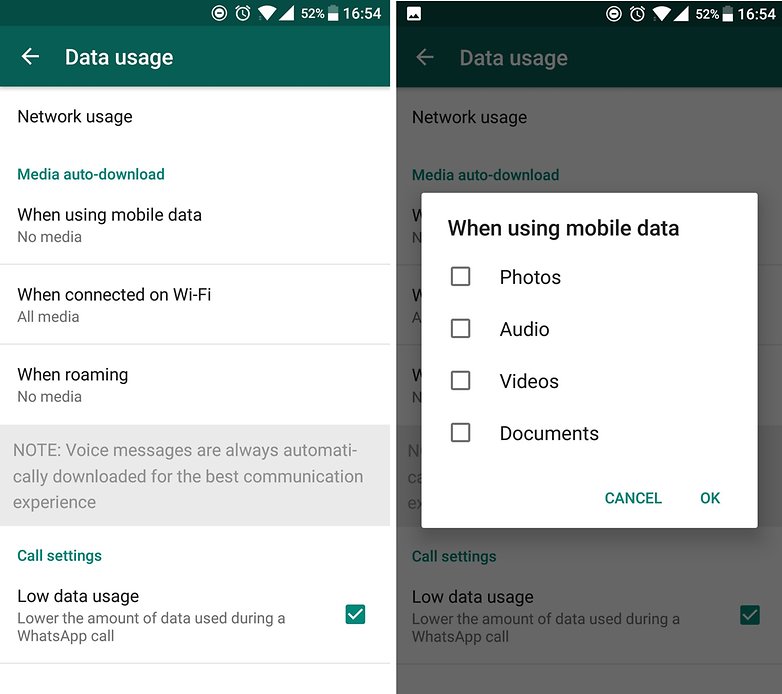 Blocking and muting
How do I block someone on WhatsApp?
It's actually very simple. Open the conversation with the contact, press the "Menu" key and select "Block." If you decide its time to start talking again, you can find your list of blocked contacts in Settings > My Account > Privacy.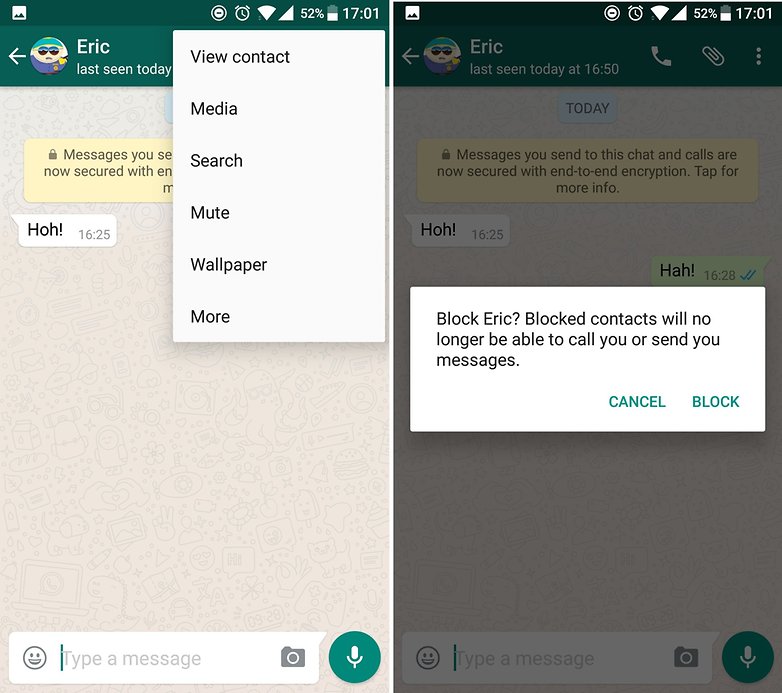 How do I block and report spam on WhatsApp?
Since WhatsApp version 2.1.23 was introduced it has been possible to block and report users if you receive messages you don't like or they are spamming you. You'll be offered this option every time, unless the contact is already in your address book.
How do I stop someone from calling or messaging me on WhatsApp?
If you do not want to receive calls from certain contacts, you can simply block them. To do this, go to the WhatsApp Settings, select "My Account" adn then "Privacy". You will find "Blocked", and the procedure for blocking contacts will be outlined in there. In the new window click on the small icon at the top right and choose the contacts to block.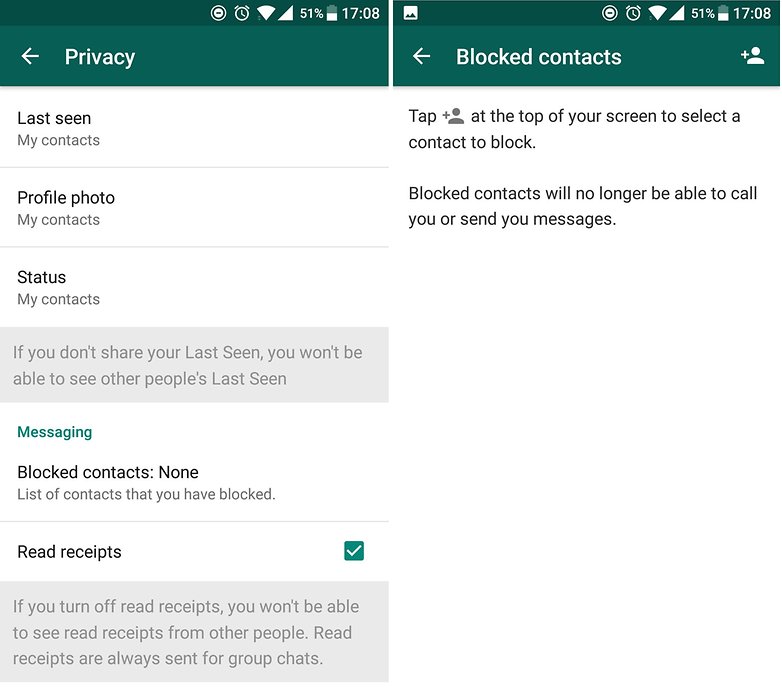 How do I know if someone has blocked me on WhatsApp?
There are four ways to suss whether someone has blocked you on WhatsApp. Each sign is largely meaningless by itself, but together they form a solid reason to believe that your friend doesn't want to be your friend.
Take note that WhatsApp has deliberately made it difficult to tell whether someone has blocked you or not, in order to maintain users' privacy. There's always an outlying chance that you're just being paranoid, even when all four of the below points apply.
Check the 'last seen' time
A contact's 'last seen' time appears in the top bar right under their name. If there's no information about when they were last online, this could be a bad sign. It doesn't necessarily mean that they've blocked you – it is possible to stop this information appearing without blocking someone. Your friend might just value their privacy, so don't go burning bridges just yet. Read on.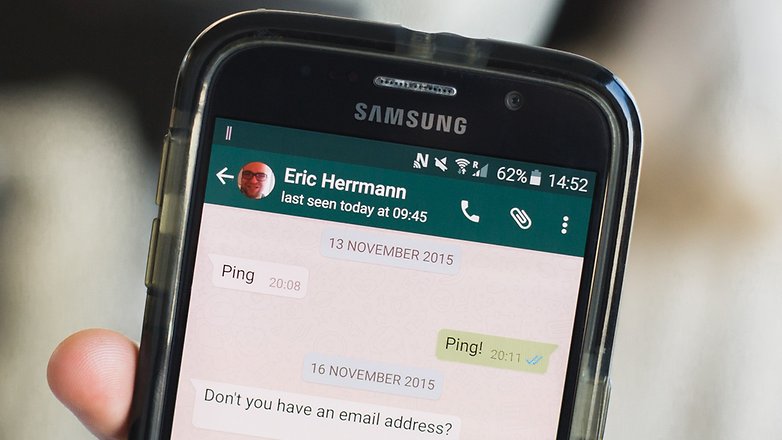 Check the double check
Check marks are WhatsApp's way of compounding your obsessive streak by ensuring that you know what's going on on the other end of the line.
The first check mark means that your message has been sent. When the second one appears, your message has been received by the recipient's phone. This doesn't mean that the person has read your message, just that it is on their phone; when those check marks turn blue, that's when they have seen the message. If you see the check marks turn blue, they haven't blocked you, and everything is fine. Take a deep breath.
If your messages never get beyond that single, sad gray tick, you might have been blocked.
There's a vague chance they still love you, though, surely? Time to keep digging.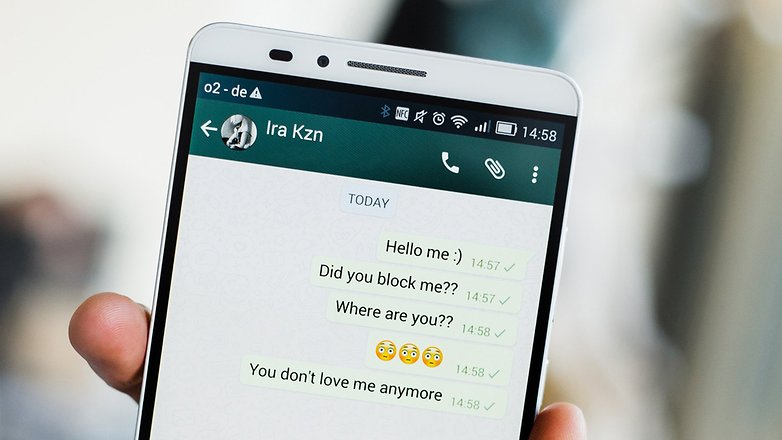 Do your calls go through?
Another indicator that your friend hates you is that all those desperate WhatsApp calls you make never go through.
Again, maybe their phone is broken, maybe they've changed their number, etc, etc, but if this one is true and the two signs above it are, too – well, thing's aren't looking good, are they?
Has their picture or profile changed?
If you notice that a contact hasn't updated or changed their profile in a while, or they've had the same picture for months, this could mean that they've blocked you. Or that they just never update their profile. Maybe everything is fine.
Let's go a step further and check from a different account, meaning from a mutual friend's smartphone. If you see here that your estranged friend's profile information and picture have changed, then we're sorry to break it you, but your friend has blocked you and, given how strangely you've been acting, with good reason.
How do I mute those annoying WhatsApp group chats?
We've all been here. You've somehow been dragged into a group chat that you either didn't really want to be in in the first place or just don't want to receive notifications from every couple of minutes. Rather than just leave the chat, which may offend some people, you can simply mute the chat so you stop receiving notifications from it.
In WhatsApp, select the "Chats" tab and then tap on the group you want to mute. With the group open, tap the Options icon at the top right. Tap Mute, then select the amount of time you want to mute the group for. You can also untick the Show notifications box so that you never hear from the group again until you decide otherwise.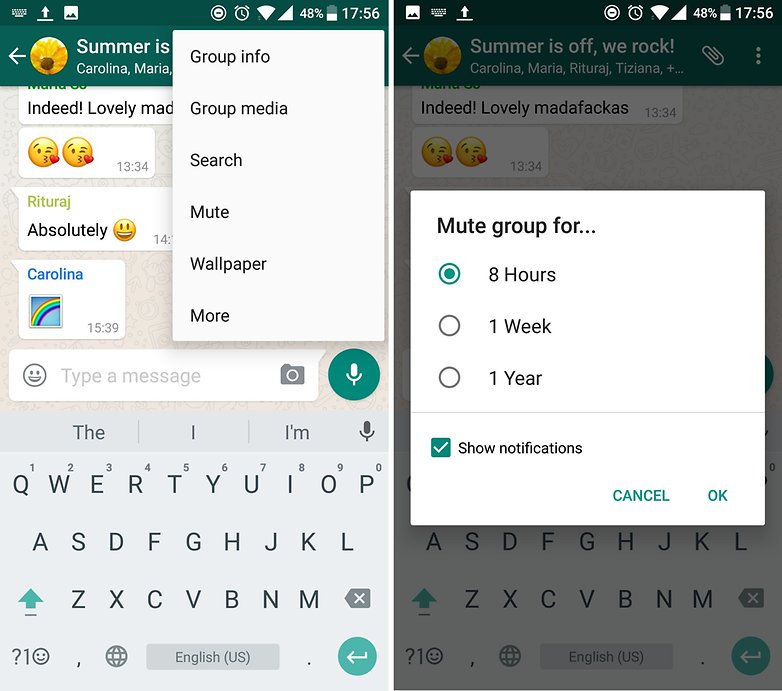 Privacy and security
How do I lock WhatsApp?
Some conversations are not for further circulation. WhatsApp helps you along here by allowing you to use a PIN to access the app, so all you will need to do is remember your numbers. Some smartphone manufacturers will offer this feature by default, a good example here is the App Locker on OnePlus models, but if it isn't already in your device you can easily download an app that will do this for you.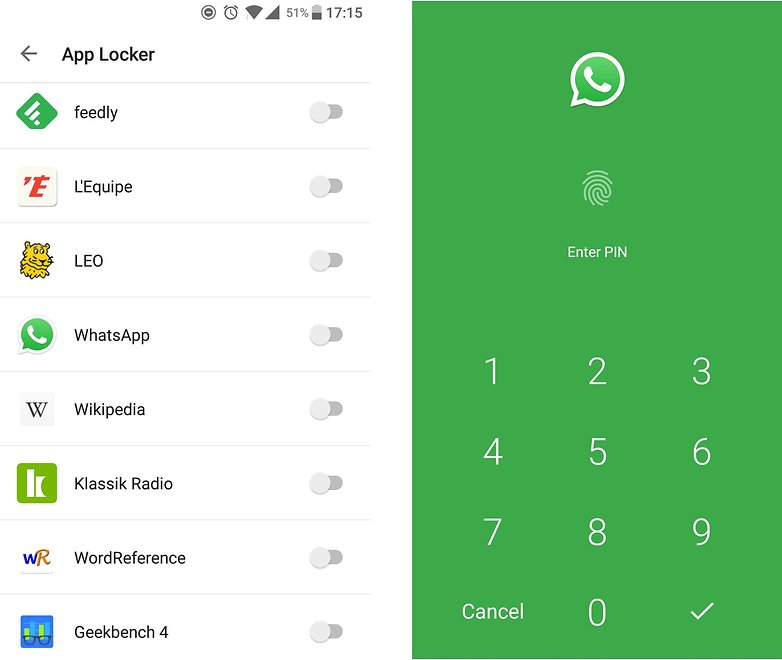 How do I hide my "Last Seen", profile picture or current status on WhatsApp?
For one reason or another you may want to hide this information from your contacts. Go to the settings tab "My Account", "Privacy", and you can adjust everything from the next screen. With "Last seen" you can specify who can see your date of last access, with "Profile photo," this is obviously your picture with "Status" you can set who can see your personalized message.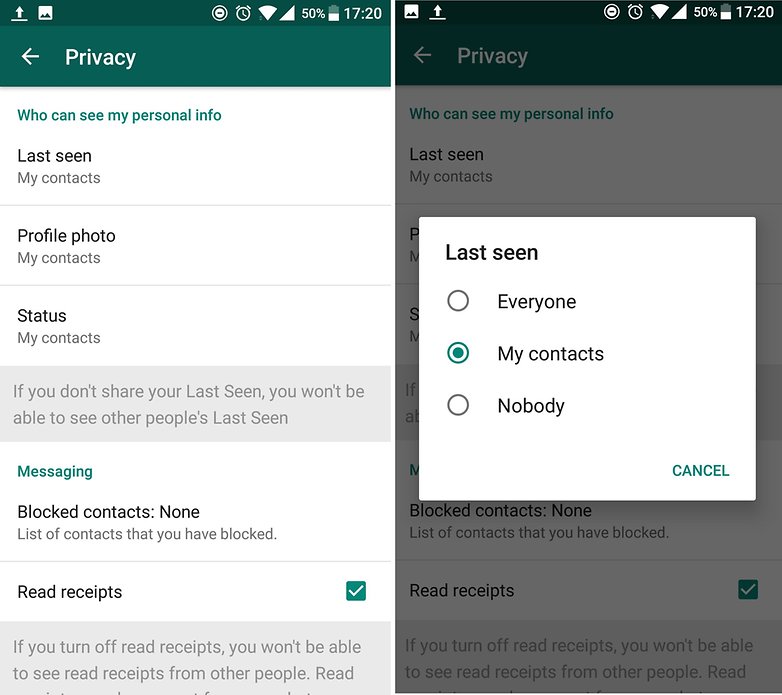 How do I enable the two step verification system on WhatsApp?
This is a great feature as it gives your WhatsApp an added layer of security. Go to settings, My Account > Verification in two stages . You can then choose to receive a verification email when you need to login to WhatsApp, such as when you're using another device.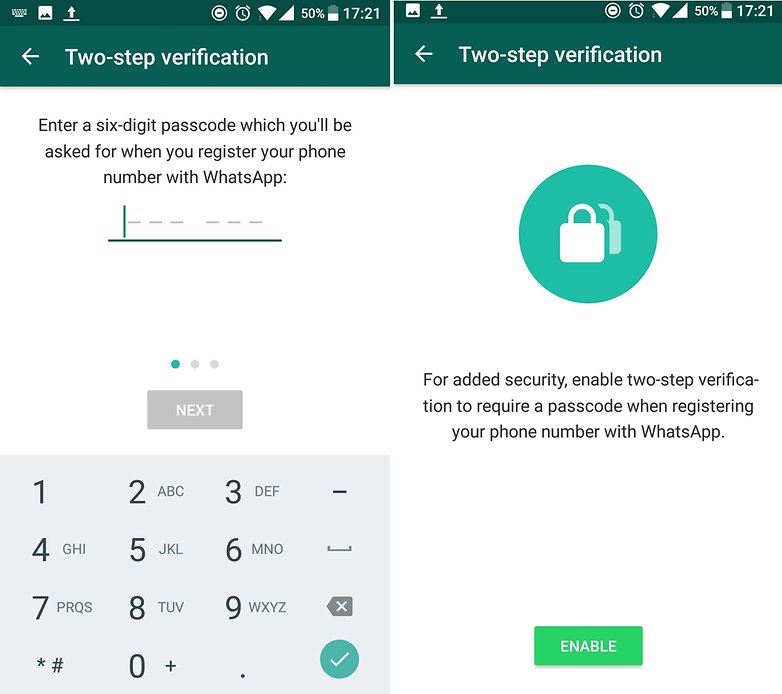 How do I delete my WhatsApp account?
For anyone wanting to leave WhatsApp, it is possible to delete your account. If you do decide on this option you should know that all of your contacts, message history and other settings will be deleted completely, and you will not be able to restore this data if you end up changing your mind.
If you are accepting of all of this and really, really want to delete WhatsApp, go to "Settings" and then enter the "My Account" tab. You will then find the "Delete my account" option. Confirm your selection by pressing the "Delete my account" tab.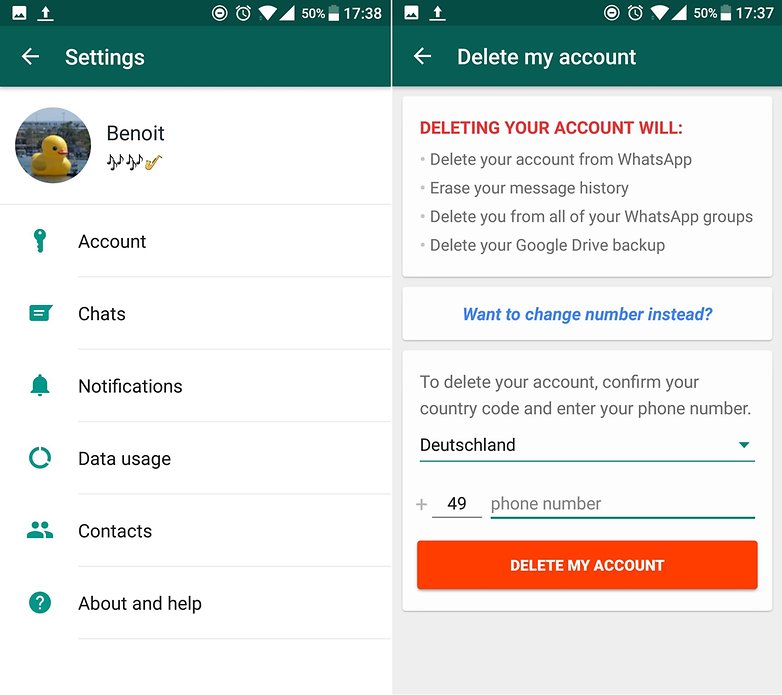 What do I do if my smartphone is stolen?
Firstly, don't panic. If your device has been stolen your best option is to remove the number from your network, or at least to block the SIM card. If for whatever reason you aren't able to do any of this - again don't panic, you can deactivate your account via email. That said, this option is not effective if the thief can connect to your WhatsApp account.
Just send an email clearly outlining your situation and a specific request to deactivate your WhatsApp account. Once you send the message, you'll have 30 days notice prior to deactivation. In other words, if you reconnect within 30 days after sending the email, the procedure will be canceled.

Here's the information your email needs to include:

The subject of the email should be "Lost / Stolen: Deactivate my account"
In the body of the email, type "Please deactivate my account. # 33 your-number"
After following these steps, please send email to support@whatsapp.com. If necessary, WhatsApp will contact you for more information concerning your request.
Notifications
How do I get floating notifications on WhatsApp?
You can get floating notifications, or Chat Heads, by using the
WhatsBubbles
app. Here you will get floating notifications that are similar to those you find on Facebook Messenger. Another application you could consider using is
SeeBye Chat Heads
, which will also give you floating notifications but you will need root rights to use this app.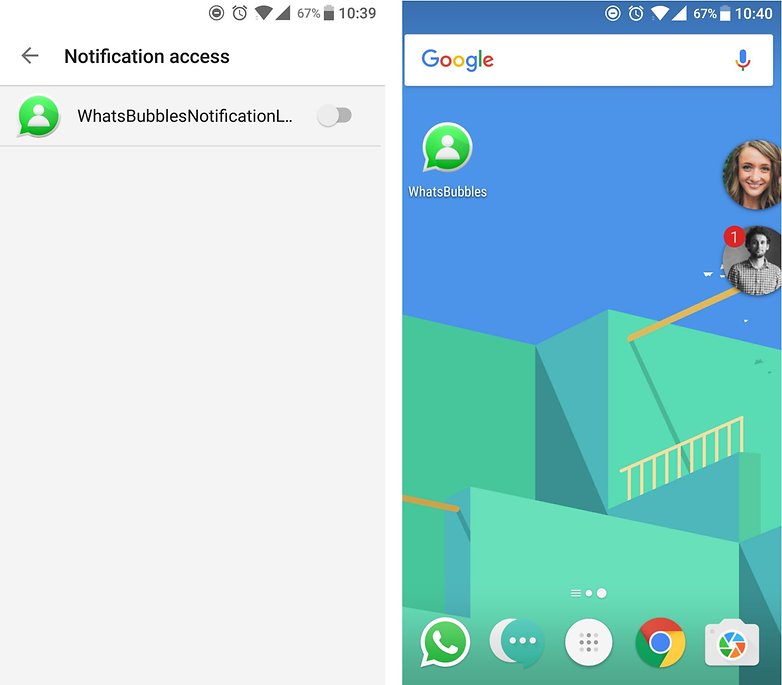 How do I completely disable WhatsApp notifications?
Do you have that many contacts that you are receiving a notification every 30 seconds? The simple solution would be to just turn them off. To do this, all you need to do is go to "Settings" and you will find this option either in the notification options or in the application options itself. You can then disable your notifications.
How to turn off the sound on notifications WhatsApp
Getting a little tired of hearing an alert every 10 seconds? Just turn them off! Enter the "Settings" and then in the notifications menu, you can choose whether or not a noise will announce the arrival of any new messages. An alternate method is to simply press and hold on a conversation from the main window, then click the crossed-out speaker at the top right.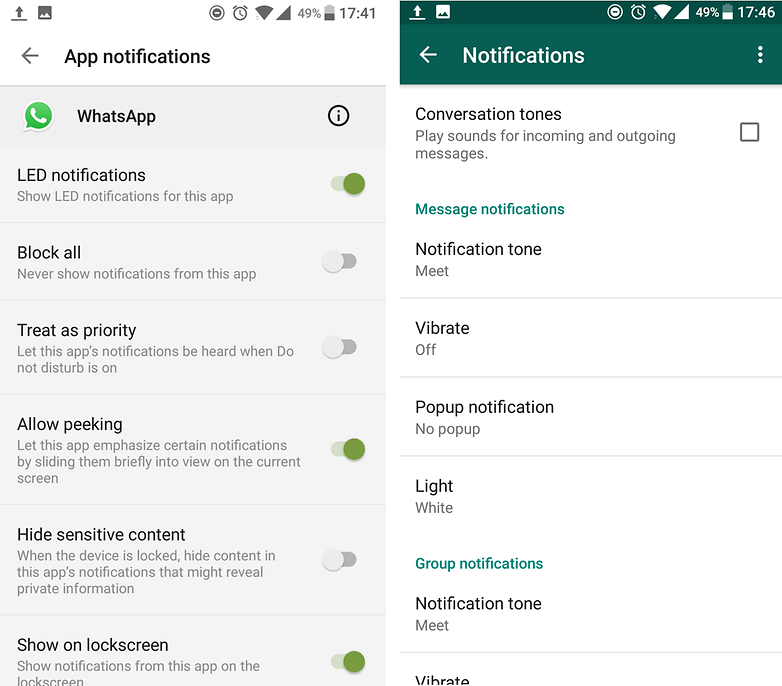 How do I respond to WhatsApp messages from pop-ups?
If notifications are not enough, you can configure WhatsApp to open a window in the middle of your screen when you receive a message. You can then quickly respond directly from this window without having to open the entire application.
To enable these pop-ups, enter the "Settings", go to "Notifications" and then select "Popup notification".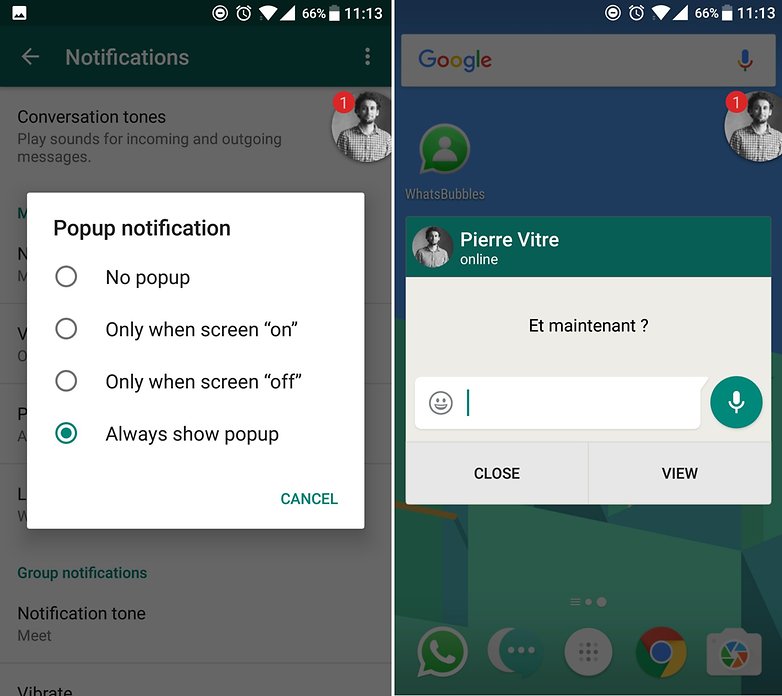 Do you use WhatsApp as your main messaging app? What's your best tip or trick for using WhatsApp? Let us know in the comments below!